Where To Buy Hot Tubs
Ever find yourself asking, where to buy hot tubs? As homeowners, we've all had that same exact thought, where you look out over your back patio and suddenly realize you need that hydro-massage hot tub you've always wanted but never really had the time, or confidence, to buy. It's a race we've all ran; I mean who doesn't want their own personal hot, bubbly bath to melt away that huge slab of stress looming over them? It's an image of relaxation, a feeling of relief, and a lifestyle change. But, between dozens of brands, today's plethora of new upgrades, and lack of consumer knowledge, how does one find their ideal hot tub? Simple really, you find a retailer that'll make you never ask those questions again. That's what customers will find at Emerald Spring Spas, a hot tub collection so extensive your questions are answered before you ask them.
So, the 'where part' is easy; Oklahoma City residents can find our physical retailer to browse tons of spas and hot tubs in person. But, we know this isn't your real question. What you're truly asking is, "What hot tub should I buy?" Now, this depends on many factors, such as your recreational intention, the size of the installation space, how many people may be using it, and what your personal preferences are. Tub models nowadays are made for every possible scenario, whether you need something cheaper or more luxurious, filled with jets, or an option with energy saving settings. Plus, advanced models now come with fully customizable and adjustable jet configurations and lighting systems.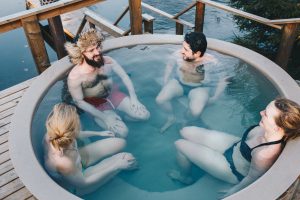 We get how confusing it can be; let us help you. It's crucial to know exactly what to look for when buying a hot tub. Once you can answer that, then our showroom should be your next move.
For starters, we recommend the Hot Spring Spas brand, the industry's most respected. As the best-built, longest-lasting, and easiest to own tub, these models have sold more than a million units and have been solidified as Oklahoma City's most popular brand. Our other models come from the Tuff and Fantasy brands, as well as pre-owned spas and swim spas for water-borne aerobic exercises. All these models come in a variety of different colors and paneling materials, and some offer further customization with different lights and jet positionings. Our website offers an easy tool where customers can pick and select between colors to produce their ideal spa.
Remember those Hot Spring Spas I mentioned earlier? Well, they're leaders in providing cutting-edge HydroMassage tech. This means simple relaxation has been elevated to the point that it provides tangible health benefits. Body weight is reduced by 90% relieving joint pressure, blood vessels dilate meaning nutrients are better circulated, and the combination of warmth and buoyancy eliminate symptoms of stress. It's a full-package massage!
If I still haven't yet convinced you, then we dare you to come and try them out. Our retail location has an entire mood room dedicated to giving you a trial run. Hop in, enjoy the warm water, and discover firsthand if your choice is right for you. Come by our store today and find your ideal hot tub now.