6 questions to ask before purchasing a spa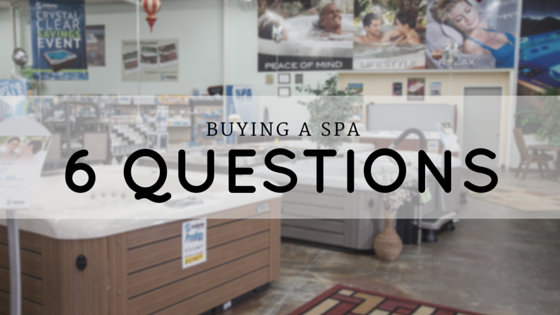 Investing in a top-quality spa is no easy task. With the variety of options on the market, it can be challenging to know what brand, model, and option package is right for you. To make it easier, we've formulated six questions that will help you identify exactly what your family needs for the best possible spa experience.
How do I know what's quality?
This is the number one question we want customers asking, and we want you asking it wherever you find yourself shopping. While there are many options on the market, many of them aren't designed with quality in mind – they're designed and built cheaply. Quality spas, no matter the maker, have some common characteristics:
Variety of jets in size, placement, and style
Size and depth; cheap spas tend to be shallow and small
Insulation; don't lose precious heat because an inferior hot tub isn't insulated well enough to keep the water warm
Options; lights, music systems, and upgraded controls are all signs of a quality brand
How do I know who to buy from?
Ask the sales person in front of you detailed questions about how the spa works, about how much the supplies will cost you, and about common repair or upkeep issues. A reputable dealer will have someone on-site who can answer all of these questions, and more, in clear and simple language without giving you a runaround.
Find out how long the dealer has been in business, how long they've been representing these specific brands, and how long the sales person you're dealing with has been with the company and in the industry. Longevity can be a strong indicator that others have trusted this company with their business.
Look online for reviews of the store and its brands. A simple "store name" + "reviews" should yield informative results.
How do I know what I need?
The best way to find out what you need is to have a clear picture of how you're planning to use the tub, how many people will use it, what their ages are, what kind of space you have, and how long you want to own the spa.
A knowledgeable sales person will take all of that information and guide you to the right spa for your family's needs. Without an idea of your end goals, it can be hard to ask for advice. A great sales person will be able to help you identify those needs, even if you've never given them any thought.
Who will install my spa?
Find out who will be doing the actual on-site work. Does the company have in-house staff who handles this? Do they contract this work to someone else? A reputable dealer will have someone on staff who handles installation, and will also have someone who can go over the spa's functionality with you once the initial setup is complete. Do not buy from a company whose relationship with you ends the moment they cash your check.
Who do I call if my spa needs a repair?
Again, a reputable company will stand by their products with warranties and repair services, not send you after a third-party to get your issues taken care of. Find out, up front, what the manufacturer's warranty covers, and how experienced the repair techs of your dealer are. A quality manufacturer and a reputable dealer will jump at the chance to share this information with you.
Can I speak to some of your customers?
Any store worth their salt will have satisfied customers willing to share their experience with you. Beware any dealer who is unable or unwilling to put you in contact with a previous customer. This is a significant red flag that all may not be as it seems.
We know that buying a spa is a serious consideration. Well hundreds of the world's best hot tubs every year, often to customers who are dissatisfied with the cheap, poor-quality tub they initially purchased. Make sure you're asking the right questions – and getting answers before you find yourself in similar shoes.