What's In a Name? Why Your Spa Source Matters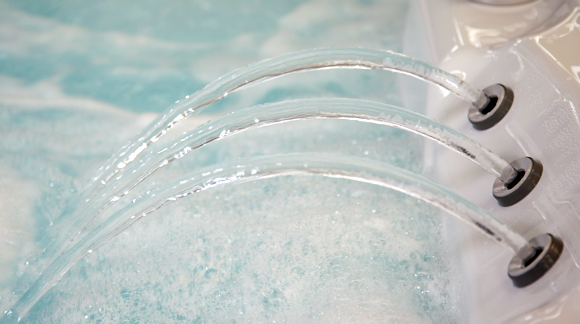 Every day, we see customers looking for their dream hot tub experience.
Maybe you're looking for the perfect way to wind down after a long day. Or, maybe you're after a spa to share with friends on summer nights. Maybe you're in need of the healing power of hydrotherapy.
We've talked to customers who've found themselves disappointed with lower-priced "bargain" spas – they thought they'd found a deal, when they'd really found a dud.
We're proud to carry the best spas in the industry, and our customers know they can count on us for superior service for years to come.
Why choose a Hot Spring spa?
Hot Spring is the leading manufacturer of spas, and provides unparalleled spa experiences. They design and build the only true salt water spa system in the world, and every spa is designed to run efficiently and deliver the best possible massage a spa can produce.
Four elements set Hot Spring apart from other manufacturers:
A Hot Spring spa is engineered to target specific muscle groups with its water jets. Some models also come with moving jets which run water up and down the length of your back. Hot Spring spas can be found with 11 different types of jets, producing streams which vary in size, intensity, and movement. Each one is specifically designed to target a different part of your body.
Only Hot Spring spas can be equipped with the patented diamond electrode of the ACE Salt Water Sanitizing System, which produces the chlorine to keep your water fresh and clean. The ACE system keeps your water clean, and because it does so without the addition of harsh chemicals, you'll change your water less often than with traditional systems. The automatic system also means your water maintenance is virtually hands-off.
For the Hot Spring spas without the ACE system, Hot Spring supplies their EverFresh Water Care System, a continuous, low-chlorine maintenance process.
Hot Spring spas are designed to run efficiently, without taxing your energy bill. From their incredibly efficient insulation, to the available continuous pump, every feature of a Hot Spring spa is intended to be an effective solution to keep your energy costs low.
Why choose Emerald Springs?
Just like you have many choices for spa brands, we know Oklahoma City has a number of spa dealers. Why should you choose to bring us your business? We take pride in two specific areas:
For nearly 20 years, Emerald Springs has been serving Bethany, Oklahoma City, and the surrounding areas with the best spas on the market, and our staff has decades of experience in the industry. We offer unbeatable repair services backed by years of knowledge and practice, and we've seen the spa industry from every imaginable corner. You simply can't beat our long history in the luxury spa market.
We were recently named Hot Springs' leading dealer in our region, beating out other dealers in Oklahoma, Texas, Kansas, and New Mexico.
All of that experience has led us to value service over everything else. We believe in the spas we sell, but we'd much rather show you how great they are than tell you. Every customer who calls our store, visits our mood room, or sends us an email is treated with courtesy and respect, and can expect the highest level of service, every time.
We know you have options for the spa you buy, and where you buy it. We invite anyone to come by our showroom, take a test dip in our Mood Room, and see for yourself the difference quality and service can make to your spa dreams.