Purchasing an Above-Ground Pool in Oklahoma
Few things generate as much excitement for homeowners as the prospect of owning a pool. The idea of spending summers swimming, playing and staying out of the heat are often enough to begin the first forays into discussions about whether or not a swimming pool would be a wise purchase. Unfortunately, many homeowners often mistakenly believe that an in-ground pool is the best way to maximize their investment and increase their property value, when often it is the above-ground pool that provides the best value and flexibility.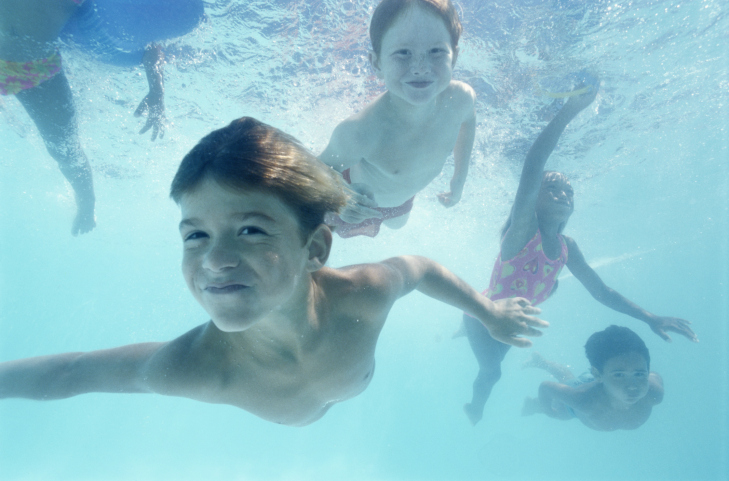 Above-Ground Pool Basics
 If you have made the decision to install a swimming pool, there are two primary options: above-ground and in-ground. Above-ground pools are installed by contractors over the span of weeks and can be designed in all manner of shapes and sizes using a variety of materials. Below-ground pools are generally already pre-designed, but can be installed in a matter of days. They arrive to your home in a kit and are quickly built by a team of trained installers, ensuring that you are swimming laps in no time.
Each type provides its own distinct advantages and disadvantages that are based largely around your home's location and the regional climate. A swim on a hot summer day can feel wonderful no matter where you live. But for those whose winters are much more severe, the changing of the seasons often means swimming season is coming to a rapid end.  That expensive in-ground pool is often only usable four to five months out of the year.
Due to the low financial barrier of entry for above-ground pools, the idea of not being able to use the pool during the cold winter months is much easier to swallow. And, the quicker installation means that you'll be able to maximize those summer months swimming instead of waiting for the contractor to finish digging.
Property Values with Above-Ground Pools
There is a belief that an in-ground pool is best for homeowners since it will increase property values. Not only is this most often false, it can actually make your home more difficult to sell should you choose to do so in the future. Your dream in-ground pool with cascading water features might seem beautiful to you, but it could be a complete eyesore to potential buyers. There's also the fact that since an in-ground pool is such an expensive addition, you'll want to recoup as much of that investment as possible through your home's resale price. Unfortunately, many homeowners often find that in regions like Oklahoma where in-ground pools aren't as common, their pool might price them right out of their neighborhood.
The flexibility of above-ground pools means that when it comes time to sell, should an interested buyer not like your choice of pool, it can be easily removed. It provides an excellent way for you to set your home apart from others in the neighborhood, while also giving you the freedom to remove it should the buyer ask. Also, should you move at some point in the future, your above-ground pool can be disassembled and then shipped to your new location, ready for another summer of fun in the sun!
Cost of Above-Ground vs. In-Ground Pools
When it comes to cost, there is no comparison: above ground pools represent the best value investment for homeowners. In-ground pools can begin at $15,000 for installation depending on the time of year, while purchasing and installing an above-ground pool costs just a fraction of that. There's also the matter of maintenance and heating. Since in-ground pools are usually much larger, they are much more costly to keep clean at a desirable temperature, adding hundreds of dollars to utility bills.
Space
Not everyone has the luxury of owning a massive yard, or wants to dedicate such a large portion of their property to a pool. Make no mistake, even a modestly sized in-ground pool will dominate a yard, as the pool itself must be surrounded by concrete and fencing in order to increase safety. The result is that there is very little space left for anything else.
What's great about above-ground swimming pools is the ability to find one that fits almost any size (or budget). They can range from 12 foot ovals to 21 foot by 43 foot rectangles. And, since no construction crews are needed, they need less space for installation and won't destroy your yard in the process.
Maintenance
Ask anyone who has owned an in-ground pool for an extended period of time, and they'll tell you just how much maintenance it requires. Unless you want to spend hundreds of dollars on a maintenance service, keeping a pool clean is a large time investment. And, since an in-ground pool has many components located underground, should anything break you'll be required to call an expert.
Above-ground pools avoid this by having all necessary parts easily visible to the homeowner; what you see is what you get. There are no hidden filters or pumps to fix. Simply find a maintenance regimen that works for you and enjoy your pool with none of the fuss!
Emerald Springs is Oklahoma City's above-ground pool expert. If you're looking for a budget-friendly way to enjoy your backyard for years to come, give us a call today.
Do You Love To Swim?
If you are looking for an above ground pool to swim laps in, one of Endless Pools Swim Spas may be a better fit for you. Their compact size and current technology let you swim in place endlessly for a full-body workout!