Control Your Spa from Anywhere with Hot Spring's Connextion App
Hot Spring, the world's leading hot tub brand, is once again setting a trend in the industry with its new Connextion mobile app for spa owners. Now, you can monitor and control your spa remotely from anywhere with a Wi-Fi connection.


The Connextion app allows owners to not only communicate with their spa, but to also easily communicate with the staff at Emerald Springs if any issues arise. Downloading the app is free, and the subscription-based service sends real-time information from your hot tub to the dealer and sends alerts if a system shows an error.
With the Connextion app, you can: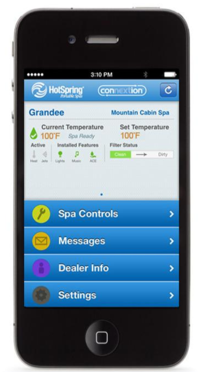 – Turn on and adjust your spa's temperature from miles away
– Start your spa's cleaning cycle
– Lock the spa's functions to prevent unwanted use
– Operate your ACE® Salt Water Sanitizing System
– Monitor equipment status and filter cleanliness
– Change settings and get real-time information about your spa
With Connextion, you can heat your hot tub from the comfort of your home, keep up with scheduled maintenance, and ensure your spa is as clean as can be, all from your mobile device of choice. This is the ultimate app for spa owners, and it's only available with the Hot Spring lineup.
Emerald Springs is Oklahoma City's trusted Hot Spring dealer. Stop by today for a free demo, or Book a Soak to try out a Hot Spring Spa for yourself.